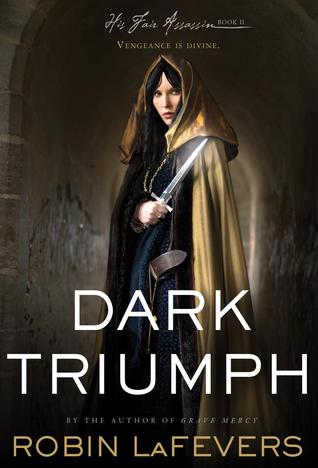 Genres:
Young Adult, Historical Fiction, Paranormal, Romance
Publication Date:
April 2nd 2013
POV:
Female - First-person, Present tense
My Rating:
3 out of 5
_______________
When Sybella arrived at the doorstep of St Mortain half mad with grief and despair the convent were only too happy to offer her refuge - but at a price. The sisters of this convent serve Death, and with Sybella naturally skilled in both the arts of death and seduction, she could become one of their most dangerous weapons.

But her assassin's skills are little comfort when the convent returns her to the life that nearly drove her mad. Her father's rage and brutality are terrifying, and her brother's love is equally monstrous. But when Sybella discovers an unexpected ally she discovers that a daughter of Death may find something other than vengeance to live for.
_______________
I enjoyed this a bit more than
Grave Mercy
because it had more interesting characters and not as familiar of a story. Although the story in
Dark Triumph
felt a bit simple and the book felt, overall, short; it was more interesting to me than
Grave Mercy
.
Court intrigue has been done, and done again. So I was glad that in the second book of the His Fair Assassin series, things are viewed from a more military POV, as Sybella and Beast fight the French and D'Albret's rebels. It is still the same fight, but Sybella is very different from Ismae. And Beast is way more interesting than Duval.
Duval was a Lord, and Beats was a soldier. He is a Duke too, I think, but he identifies more as a soldier. He was so tough and confident. I totally loved him, and the fact that he was so ugly made him more endearing, although I wish that Sybella would have stopped pointing it out.
I felt really uncomfortable with Sybella's brother Julian. I know we are not supposed to accept the incest or rape, but in the end Sybella and Julian were still close, and she forgave him for everything. I felt really uncomfortable with the whole situation. After what he had done, I felt like he should have been a villain, but he wasn't. I felt like I wanted to hate him, but he wasn't portrayed that way. I just didn't know what to do with him and I didn't like it.
This series does not focus on the romance as much as it does the heroine, and her journey of self discovery. I personally would prefer more romance, but they are still good stories.
I really enjoyed reading the Author's Note, where she explained the similarities to historical events, and why she made certain changes. It was really interesting and it shed a new light on the story. I look forward to reading
Mortal Heart
.
"And just as love has two sides, so too does Death. While Ismae will serve as His mercy, I will not, for that is not how He fashioned me. Every death I have witnessed, every horror I have endured, has forged me to be who I am -- Death's justice."