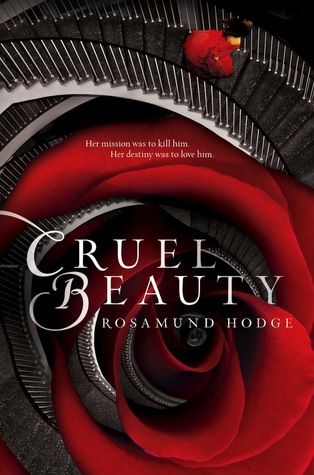 Genres:
Young Adult, High Fantasy, Romance
Publication Date:
January 28th 2014
POV:
Female - First-person, Past tense
My Rating:
2 out of 5
_______________
Graceling meets Beauty and the Beast in this sweeping fantasy about one girl's journey to fulfill her destiny and the monster who gets in her way-by stealing her heart.

Based on the classic fairy tale Beauty and the Beast, Cruel Beauty is a dazzling love story about our deepest desires and their power to change our destiny.

Since birth, Nyx has been betrothed to the evil ruler of her kingdom-all because of a foolish bargain struck by her father. And since birth, she has been in training to kill him.

With no choice but to fulfill her duty, Nyx resents her family for never trying to save her and hates herself for wanting to escape her fate. Still, on her seventeenth birthday, Nyx abandons everything she's ever known to marry the all-powerful, immortal Ignifex. Her plan? Seduce him, destroy his enchanted castle, and break the nine-hundred-year-old curse he put on her people.

But Ignifex is not at all what Nyx expected. The strangely charming lord beguiles her, and his castle-a shifting maze of magical rooms-enthralls her.

As Nyx searches for a way to free her homeland by uncovering Ignifex's secrets, she finds herself unwillingly drawn to him. Even if she could bring herself to love her sworn enemy, how can she refuse her duty to kill him? With time running out, Nyx must decide what is more important: the future of her kingdom, or the man she was never supposed to love.
_______________
I did not enjoy this book very much. I did not like the way that the narration felt so disconnected. It made me feel like I was just seeing this story from afar. Or that I was not reading a story, but just the outline of the story. It read like a ghost story told by word of mouth, or a fable, myth, or legend, not a novel. I was never immersed in the world, and I felt like the characters were thin and undeveloped. They felt like a list of required traits, not people.
I also didn't enjoy the fact that Nyx and Ignifex were such bad people. That was sort of the point of the story I think. Two horrible people who were never loved by anyone else, love each other. But it made it hard to care about either of them, and I hated Nyx a little bit. I guess the story did manage to draw me in enough to make me angry when I think of what Nyx tried to do to Ignifex. More can be forgiven when you are a hot guy who has been tormented for 1000 years. Less so when you are a rich teenage girl. Shame on me, but it's true.
The story was unique and ambitious, but only succeeded in being confusing. I don't understand a lot of what happened, especially nearing the end. And I found the romance seriously lacking. Since they were both horrible people they couldn't really love each other properly, and even admit as much.
"But we'll pretend we know how to love." I smiled at him. "And someday we'll learn."
I couldn't really bring myself to root for them to be together when they were so willing to hurt each other before. They had such an odd relationship, and its even odder now that Ignifex is not Ignifex, but Lux. I didn't love Ignifex, but he was the best thing about the book, and now I feel a little ripped off by the fact that he no longer exists as he once did. But whatever, I can feel it slipping from my mind already. I will forget about this book completely by the end of the day.
If you are looking for a good Beauty and the Beast retelling, I'd recommend
Of Beast and Beauty
. Its really good!
"I had been waiting, all my life, for someone undeceived to love me. And now he did, and it felt like walking into the dazzling sunlight of the Heart of Earth. Except that the sunlight was false, and his love was real."