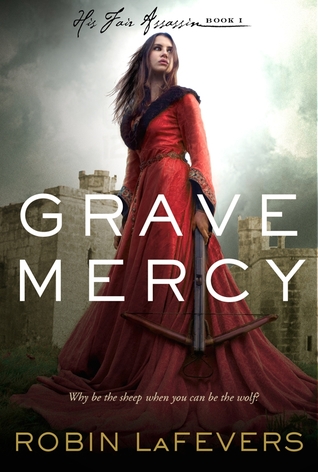 Genres:
Young Adult, Historical Fiction, Paranormal, Romance
Publication Date:
April 3rd 2012
POV:
Female - First-person, Present tense
My Rating:
3 out of 5
_______________

Why be the sheep, when you can be the wolf?

Seventeen-year-old Ismae escapes from the brutality of an arranged marriage into the sanctuary of the convent of St. Mortain, where the sisters still serve the gods of old. Here she learns that the god of Death Himself has blessed her with dangerous gifts—and a violent destiny. If she chooses to stay at the convent, she will be trained as an assassin and serve as a handmaiden to Death. To claim her new life, she must destroy the lives of others.

Ismae's most important assignment takes her straight into the high court of Brittany—where she finds herself woefully under prepared—not only for the deadly games of intrigue and treason, but for the impossible choices she must make. For how can she deliver Death's vengeance upon a target who, against her will, has stolen her heart?
_______________
This book is my first case of too much YA. I have read some reviews where others have said they've read too many books on a particular subject, or books with a similar formula, and they eventually ceased to keep their interest. I never understood this. I have read hundreds of YA books, many of them similar, and I have enjoyed them all (or almost all). But now, I have read too many court intrigues and they are all starting to seem the same. I still enjoyed this a great deal and tried to give it an unbiased rating and not compare it too much to the others.
At first I found the story rather disturbing. The first 8 chapters dealt with Ismae's introduction to the order of Mortain, and her training. I didn't like the casualness in which they talked about killing people, like it would be fun. But once she went on her mission it was shown in a new light. As a way to defend her nation, like a soldier or a spy, instead of an assassin. I really did not like Mortain at first. There was always something very suspicious about the way the targets were chosen and I was blaming him. But Ismae handled everything well and made the same decisions I would have in when to follow her orders and when not to. Her heart was always in the right place and she did not follow blindly. And I was very pleased that the issue was thoroughly explored and resolved before the end.

And I love that Ismae had a trustworthy circle of friends and allies. Sometimes in this type of book you never know who you can trust. There were certainly a lot of sketchy characters, but you always knew you could trust Beast, de Lornay, Anne, and most of all Duval. It was very comforting to know. I do not like the unease that comes with not knowing your friends from your enemies. There is no need to list Duval's many virtues, and he was a comforting presence. But I did not pine for him. I love his steady support and his unfailing loyalty and determination. He was a great character, but not my kind of man. He was too subdued and almost dispassionate. Nevertheless, he is for Ismae, not me, and I enjoyed them together. But their relationship was not fiery or passionate, and the ending was not as satisfying as it could have been. I was a bit disappointed that I didn't get more closure. But I hope that they will at least be mentioned in Dark Triumph, to shed a bit more light on their fates. Anything more I can get is better than nothing. I also expect to enjoy Sybella's story.


"It is this kindness of his that unsettles me most. I can dodge a blow or block a knife. I am impervious to poison and know a dozen ways to escape a chokehold or garrote wire. But kindness? I do not know how to defend against that."