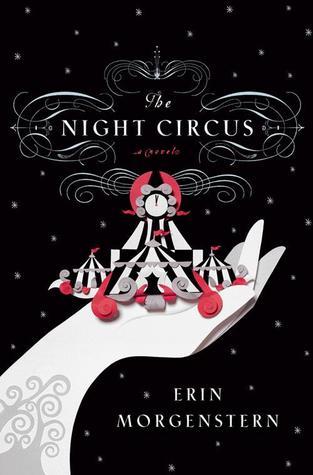 Genres:
Adult, Paranormal, Historical Fiction, Romance
Publication Date:
September 13th 2011
POV:
Alternating - Third-person, Present tense
Smut-O-Meter:
5 out of 10
My Rating:
4 out of 5
_______________
The circus arrives without warning. No announcements precede it. It is simply there, when yesterday it was not. Within the black-and-white striped canvas tents is an utterly unique experience full of breathtaking amazements. It is called Le Cirque des Rêves, and it is only open at night.

But behind the scenes, a fierce competition is underway: a duel between two young magicians, Celia and Marco, who have been trained since childhood expressly for this purpose by their mercurial instructors. Unbeknownst to them both, this is a game in which only one can be left standing. Despite the high stakes, Celia and Marco soon tumble headfirst into love, setting off a domino effect of dangerous consequences, and leaving the lives of everyone, from the performers to the patrons, hanging in the balance.
_______________
I am not sure if this deserves more of a 3 or a 4. Its kinda of hard to rate because the story was absolutely amazing! Honestly one of the most amazing stories I have ever read. But the overall experience was not enjoyable. The way the whole thing was written and laid out was not complimentary in my opinion.
The story takes place over a period of almost exactly 30 years. Several years sometimes go by between chapters, and not all chapters are placed in chronological order (luckily each chapter starts with a date so we can at least try to keep things straight in our heads). There are several alternating POVs, not in any particular pattern. Celia and Marco are clearly the main characters, but besides that any random person can have their POV here or there. Some characters' relevance to the story are not made clear till much later. And although the majority of the book is written in third-person narrative, some interspersed chapters are actually written in second-person. This is by far the most awkward thing I have ever seen. Clearly, second-person narrative exists, but does anyone ever use it? I have never seen it before and I hope to never see it again. The effect was rather awkward and disjointed. Nothing seemed to flow as it should.
Besides the way that the book and its timeline were laid out, I also did not enjoy the way it was written. The narrative was extremely formal and impersonal. It seemed to always be present and always know what was said or done, but rarely knew what was felt. I can think of very few instances where a characters thoughts or feelings were described. I was not drawn into the story at all and felt very little attachment to the characters. It was like I was just watching it from a distance.
The actual story however, is beyond words. Beautiful historical settings, a sweeping romance, and so much magic. It is just the kind of thing that I usually eat up, if only someone else had thought of it and written it, with some emotion and depth. There is no point in trying to describe the story, its like
The Matrix
. You have to see it to believe it. This will make an amazing movie and I cannot wait! Hopefully the timeline and POV issues will be smoothed over, and any issues I had with the lack of emotions can be fixed automatically by a good director. If done right it could be one of the best movies ever.
"I would have written you, myself, if I could put down in words everything I want to say to you. A sea of ink would not be enough."
"But you built me dreams instead."