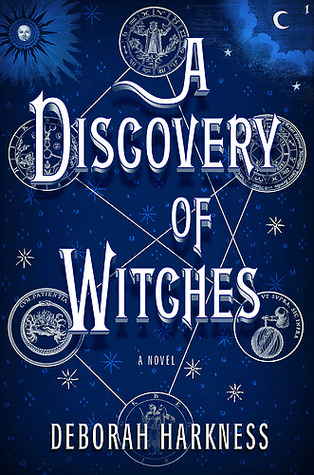 Genres:
Adult, Paranormal, Romance
Publication Date:
February 8th 2011
Smut-O-Meter:
3 out of 10
My Rating:
4 out of 5
_______________
Deep in the stacks of Oxford's Bodleian Library, young scholar Diana Bishop unwittingly calls up a bewitched alchemical manuscript in the course of her research. Descended from an old and distinguished line of witches, Diana wants nothing to do with sorcery; so after a furtive glance and a few notes, she banishes the book to the stacks. But her discovery sets a fantastical underworld stirring, and a horde of daemons, witches, and vampires soon descends upon the library. Diana has stumbled upon a coveted treasure lost for centuries-and she is the only creature who can break its spell.

Debut novelist Deborah Harkness has crafted a mesmerizing and addictive read, equal parts history and magic, romance and suspense. Diana is a bold heroine who meets her equal in vampire geneticist Matthew Clairmont, and gradually warms up to him as their alliance deepens into an intimacy that violates age-old taboos. This smart, sophisticated story harks back to the novels of Anne Rice, but it is as contemporary and sensual as the Twilight series-with an extra serving of historical realism.
_______________
This book is so long! Its really only 579 pages, but I read it on an Kindle and if I didn't know better I would have guessed it was much longer than that. Its just that so much happened! From Oxford, to Sept-Tours, to Madison. To think about the times in the Bodleian now, it feels like ages ago.
The story is large and ambitious, more so than I have come to expect from PNR. The romance was definitely consuming and won't disappoint PNR lovers, but it is not the focus. There was so much mystery and danger and discovery. I loved all the history that was incorporated into the story, and the manuscripts that Diana studied. They sounded so beautiful and I have always been fascinated by history, especially art history. Diana was studying the history of science, but those manuscripts sounded like art as well. And there is such a wonderful, large cast of characters. I loved them all, and I hope we get to see them again in the next book.
Considering it was an adult PNR I was surprised there was no sex, but not disappointed. There is enough actual romance that the lack of sex was not felt. There was one sexy scene though, but nothing explicit. I would be ok with my teenagers reading this (if I had any).
I really look forward to reading
Shadow of Night
, and their adventure through history. Although, I really did not understand the last chapter of the book. The four pages with Sarah. What happened? Maybe I will understand it once I read the next book.
"I see that you are behaving like a prince but that doesn't mean you won't behave like a devil at the first opportunity."