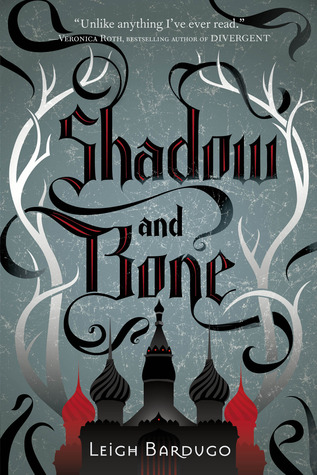 Genres:
Young Adult, High Fantasy, Romance
Publication Date:
June 5th 2012
POV:
Female - First-person, Past tense
My Rating:
4 out of 5
_______________
Surrounded by enemies, the once-great nation of Ravka has been torn in two by the Shadow Fold, a swath of near impenetrable darkness crawling with monsters who feast on human flesh. Now its fate may rest on the shoulders of one lonely refugee.

Alina Starkov has never been good at anything. But when her regiment is attacked on the Fold and her best friend is brutally injured, Alina reveals a dormant power that saves his life—a power that could be the key to setting her war-ravaged country free. Wrenched from everything she knows, Alina is whisked away to the royal court to be trained as a member of the Grisha, the magical elite led by the mysterious Darkling.

Yet nothing in this lavish world is what it seems. With darkness looming and an entire kingdom depending on her untamed power, Alina will have to confront the secrets of the Grisha . . . and the secrets of her heart.
_______________
Its been a very long time since I have read a YA fantasy this good. I have been on a search for one ever since I read
Graceling
over 2 years ago. All the popular ones that I have read in that time just could not live up to it for me. They were just all the same. Although there were some things about
Shadow and Bone
that were familiar, it got a lot more right than most.
I love the world in this book. It was interesting and well developed. Although I was a bit confused about the setting. It seemed too much like Earth to be High Fantasy, but too little like Earth to be any kind of historical fantasy. But putting that aside and accepting that it is a unique combination of Earth-inspired High Fantasy, it was really well built and fleshed-out and immersive.
The story may have been a bit familiar, with a girl finding out that she has had a strange power her whole life that she never knew about, and then being whisked off to train her new abilities. And there was a bit of the 'Sorting Hat Syndrome', with the Grisha being categorized according to their abilities. But the way their magic system (yes, its magic, as much as the Grisha might want to deny it) works was really interesting and different.
I also loved all the characters. I found Alina very realistic and relatable. She was not perfect. She had a lot of abandonment issues, but she was consistent and human. She is miles more interesting than Celaena, who I always found nearly too vain and haughty to tolerate, and perhaps even better than Katsa who seriously kicked-ass, but was so stubborn and independent that she began to annoy me. I also loved Mal, who, like Alina, wasn't perfect, but his faults were realistic and didn't take away from his character. He was brave, and loving, and loyal, and constant. Even if Alina hadn't known it at the time, he was constant.
The Darkling was a fascinating character. Although I never fully accepted him as a love-interest and wasn't too surprised by what happened in the end, he was still a great, complicated character. He was ancient and the depth of his experience and knowledge is unfathomable. I knew it was impossible for someone like that to truly be caught up in a moment and let down their guard and act like a boy. He was larger than life, charismatic and intimidating and awe-inspiring all at the same time. Even now he still is. None of those traits are exclusive to good or evil. He is perhaps my favourite character in the book, regardless of where he will go from here. I really look forward to finding out where that will be.
"I'm not like you, Mal. I never really fit in the way you did. I never really belonged anywhere."
"You belonged with me."