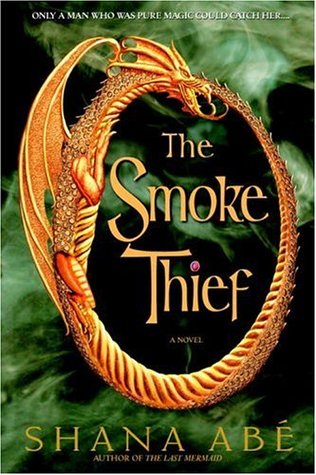 Genres:
Adult, Historical Fiction, Fantasy/Paranormal, Romance
Publication Date:
September 27th 2005
POV:
Alternating - Third-person, Past tense
Smut-O-Meter:
5 out of 10
My Rating:
4 out of 5
_______________
For centuries they've lived in secret among northern England's green and misted hills. Creatures of extraordinary beauty, power, and sensuality, they possess the ability to shape-shift from human to dragon and back again. Now their secret—and their survival—is threatened by a temptation that will break every boundary.

Dubbed the Smoke Thief, a daring jewel thief is confounding the London police. His wealthy victims claim the master burglar can walk through walls and vanish into thin air. But Christoff, the charismatic Marquess of Langford, knows the truth: the thief is no ordinary human but a "runner" who's fled Darkfrith without permission. As Alpha leader of the drákon, it's Kit's duty to capture the fugitive before the secrets of the tribe are revealed to mortals. But not even Kit suspects that the Smoke Thief could be a woman.

Clarissa Rue Hawthorne knew her dangerous exploits would attract the attention of the drákon. But she didn't expect Christoff himself to come to London, dangling the tribe's most valuable jewel—the Langford Diamond—as bait. For as long as she could remember, Rue had lived the life of a halfling—half drákon, half mortal—and an outcast in both worlds. She'd always loved the handsome and willful Kit from the only place it was safe: from afar. But now she was no longer the shy, timid girl she'd once been. She was the first woman capable of making the Turn in four generations. So why did she still feel the same dizzying sense of vulnerability whenever he was near?

From the moment he saw her, Kit knew that the alluring and powerful beauty was every bit his Alpha equal and destined to be his bride. And by the harsh laws of the drákon, Rue knew that she was the property of the marquess. But they will risk banishment and worse for a chance at something greater. For now Rue is his prisoner, the diamond has disappeared, and she's made the kind of dangerous proposition a man like Kit cannot resist.
_______________
I love the combination of genres in this. It would at first seem like a Georgian historical romance, set in 1751 London. But it was also a cat-and-mouse story of a jewel thief. But then, on top of all of that, there are dragons! Yep, you heard me.
Clarissa grew up in a secret tribe of shapeshifting dragons that is disguised as a village and a large manor house, where the Alpha dragon and his family live. From a young age, Clarissa has been in love with the Alpha's beautiful son Cristoff, 4 years older than her, and far above her in status. But when Clarissa is 17, she discovers she can shift. A terrifying reality, or a dream come true? Female who canshift are rare, so she will be forced to marry Cristoff. It may sound like a dream come true. But more than wanting to marry him, she wants him to love her. So she runs. She runs away to London and becomes the Smoke Thief. Nine years later, Cristoff is now Alpha and still unmarried. He comes to London to stop the Smoke Thief before their kind are exposed. But he had no idea what kind of fight he was getting into with Miss Clarissa Rue, The Smoke Thief.
I really loved Cristoff, aka Kip. He was swaggering, arrogant, loyal, bold, determined, and passionate; about being Alpha, about his people, and about his Rue-flower. He was so yummy and the relationship between him and Rue was so unusual. She was bitter about him trying to force her back to the tribe, and he was bitter about the fact that she ran from him 9 years earlier. But it didnt stop them from falling for each other, again, in Rue's case. And the first time they had sex was unbelievable! It was unbelievable that he would attempt it, and unbelievable that she would let him! The arrogant, bold, determination, and passion in him all came into play in that scene. And the bold and daring in Rue that allows her to be the Smoke Thief, also allowed her to have sex with the man of her dreams on the floor of an office during a high society party, with someone else in the room, without being caught.
Rue and Kip were a well matched pair, as rivals, as a couple, as partners in crime, as everything in life, they were amazing together. Their constant bickering, as well as their mutual respect and admiration. And I love the history and magic, and mystery behind the drakon. The way the book ended, with hints of what is to come. I cannot wait to read
The Dream Thief
!
"In the year 1751, for the first time in centuries, two Alpha hearts united. The power of their union shivered the very web of the drakon. Souls trembled on invisible strings. Fates shifted. And ancient ties, long forgotten, thrilled to life."