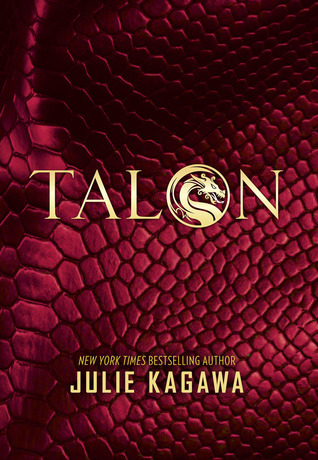 Genres:
Young Adult, Paranormal, Romance
Publication Date:
October 28th 2014
POV:
Alternating - First-person, Past tense
My Rating:
4 out of 5
_______________

Long ago, dragons were hunted to near extinction by the Order of St. George, a legendary society of dragon slayers. Hiding in human form and growing their numbers in secret, the dragons of Talon have become strong and cunning, and they're positioned to take over the world with humans none the wiser.

Ember and Dante Hill are the only sister and brother known to dragonkind. Trained to infiltrate society, Ember wants to live the teen experience and enjoy a summer of freedom before taking her destined place in Talon. But destiny is a matter of perspective, and a rogue dragon will soon challenge everything Ember has been taught. As Ember struggles to accept her future, she and her brother are hunted by the Order of St. George.

Soldier Garret Xavier Sebastian has a mission to seek and destroy all dragons, and Talon's newest recruits in particular. But he cannot kill unless he is certain he has found his prey: and nothing is certain about Ember Hill. Faced with Ember's bravery, confidence and all-too-human desires, Garret begins to question everything that the Order has ingrained in him: and what he might be willing to give up to find the truth about dragons.
_______________
I really loved this book. It felt a lot more in the spirit of
The Iron Fey
, which is the series that first got me into reading, than her other books. It has that great sense of adventure and discovery, and life and love and friendship. And heroism.
I absolutely loved Ember. She was so full of life and spunk. And her physical appearance was a perfect representation of who she was underneath. She was small with bright green eyes and spiky red hair. She was such a firecracker (or Firebrand, as Riley liked to call her). She was like a female Puck. A person like her would never have survived inside Talon. At least not with her soul intact. She needed freedom. But I love how, in the end, it was not selfishness and her desire for freedom that finally convinced her to leave. She would not have been happy in Talon, but I don't know for sure whether or not she would have left without Riley's help. I'd like to think she would have stayed for her brother. But in the end, it was her goodness and her heroism that finally convinced her of what she needed to do.
And the same goes for Garret. He may have unwillingly fallen in love with a dragon, causing him to question everything he has ever known. But it was not only his concern for Ember that made him betray St. George, but the fact that if Ember is good, than others must be as well. He would not kill Riley, or Nettle or Remy either. Because like Ember, he will do what he believes to be the right thing, not only the thing that is best for him.
This book was just full of great characters, from the protagonists, to Dante and Riley and Wes, and even Lexi. Riley is a great friend for Ember and I am so glad that she found someone who understands her and she can talk to about being a dragon. I enjoy the fact that their relationship is complicated and I look forward to seeing how much more complicated it becomes. Although I hope not too much happens between them, because it is clear that any attraction is a result of their dragon natures, and has little to do with actual feelings. I also really enjoyed Dante and I feel sorry for him. He was so easily fooled and put under Talon's thumb. I really hope that he comes around in the end, because he was a really great brother to Ember in the beginning.
I loved the fact that the story and mythology of the dragons was balanced with the amount of romance. In YA series you sometimes have to wait for several books before a romance really develops. But in Talon, Ember and Garret are in love and making sacrifices by the end of the first book. And that didnt take away from the high stakes of the story at all. I really look forward to learning more about Talon's secrets. What we learned about Vipers and Chameleons, and their possible secrets labs was all interesting and I am sure Ember will now work to rescue others and expose their secrets. I also look forward to her infiltrating St. George and rescuing Garret, and hopefully more shifting, now that she is free to do as she pleases. I am really excited for this series and I can see some much potential for it to be totally epic.
"Somewhere between that day on the beach when I'd met her for the first time and the night of the party when we'd kissed in the ocean, she had become something more than a potential target. She had, very inexplicably, become the most important thing in my life.
And that terrified me."