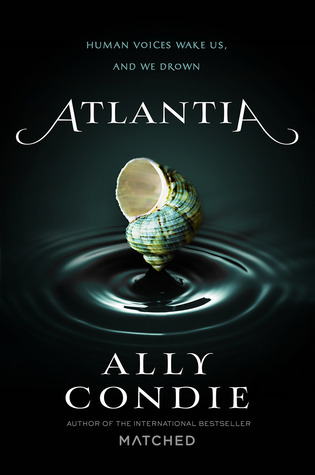 Genres:
Young Adult, Sci-fi, Dystopian, Paranormal, Romance
Publication Date:
October 28th 2014
POV:
Female - First-person, Present tense
My Rating:
3 out of 5
_______________
Can you hear Atlantia breathing?

For as long as she can remember, Rio has dreamt of the sand and sky Above—of life beyond her underwater city of Atlantia. But in a single moment, all her plans for the future are thwarted when her twin sister, Bay, makes an unexpected decision, stranding Rio Below. Alone, ripped away from the last person who knew Rio's true self—and the powerful siren voice she has long hidden—she has nothing left to lose.

Guided by a dangerous and unlikely mentor, Rio formulates a plan that leads to increasingly treacherous questions about her mother's death, her own destiny, and the complex system constructed to govern the divide between land and sea. Her life and her city depend on Rio to listen to the voices of the past and to speak long-hidden truths.
_______________
Due to this being set in Atlantis I thought that it would be a fantasy, or a historical set in the times of ancient Greece. But it is not Atlantis, it is Atlantia. It is set in a post-apocalyptic world, where the world Above is poisoned so people moved Below the water.
This is the story of Rio, who dreams of seeing above, and her journey to see her sister again, and to discover the secrets of her world and Above, and what really happened. I read this because I loved
Matched
so much. And although the writing style is pretty much the same, the characters did not engage me as well. And there was very little romance. Although True helped her along the way, the real struggle was for Rio to find her sister. It had nothing to do with finding a way to be with True. He was a companion and a comfort during her journey, but not a central part of it.
The world of Atlantia was pretty unique and I wish it had focused more on the mythology and history of their world. I would have liked to learn more about the sirens and the gods and the other gifts that some people had. And about the other cities. It could have been much more interesting if it delved deeper I think. The story was not enough to really grab me. It focused too much on Rio's single-minded need to go Above. I felt no connection to her as a heroine. There was really nothing special about any of the characters.
The story was concluded at the end, and although authors can always find an excuse to come back and expand a story if they decide to later, I hope this remains a standalone story. I don't feel the need to come back to this world. We could always see how Rio and Bay are doing later, and how their worlds are faring, how things have changed, but I believe everything will turn out for the best.
"Everyone dies. The don't all have the chance to see what they wanted most. At least I've seen the Above. At least I've known True."