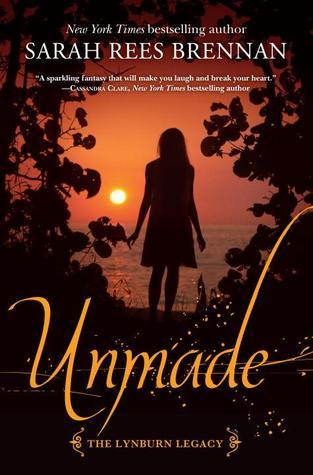 Genres:
Young Adult, Paranormal, Romance
Publication Date:
September 23rd 2014
POV:
Alternating - Third-person, Past tense
My Rating:
5 out of 5
_______________
Powerful love comes with a price. Who will be the sacrifice?

Kami has lost the boy she loves, is tied to a boy she does not, and faces an enemy more powerful than ever before. With Jared missing for months and presumed dead, Kami must rely on her new magical link with Ash for the strength to face the evil spreading through her town.

Rob Lynburn is now the master of Sorry-in-the-Vale, and he demands a death. Kami will use every tool at her disposal to stop him. Together with Rusty, Angela, and Holly, she uncovers a secret that might be the key to saving the town. But with knowledge comes responsibility—and a painful choice. A choice that will risk not only Kami's life, but also the lives of those she loves most.

As coauthor with Cassandra Clare of the bestselling Bane Chronicles, Sarah Rees Brennan has mastered the art of the page-turner. This final book in the Lynburn Legacy is a wild, entertaining ride from beginning to shocking end.
_______________
This series is one of my absolute favourites. 5-stars across the board. It's just so unique. I really can't get over how unusual it was. It's so dark. And by dark I mean
dark
. The bad guys in this story are true evil. There is so much blood and death and destruction and pure greed and
evil
. Yet, at the same time, Kami is simply one of the best, smartest, funniest, and wittiest YA heroines I have ever read. She provides a balance that you need in order to handle all the darkness. This is one of those books where, when you try to list your favourites quotes, you find that you want to quote the whole book.
Another thing I loved about this book was all the love. Kami and Jared's love is epic, but it wasn't the only focus. Everyone loved each other and were willing to sacrifice so much for each other. Kami loved Jared, but she also loved Ash and Rusty, in a different way. She never really gave her love for them a title, but it was probably more brotherly. Then of course she loved Angela and Holly, and her brothers and her parents, and everything she did was for them. If you have read this series, then you know exactly how much Rusty loved Angela and Kami. How much Angela loved Kami, and Rusty, and Holly. How much Jared loved Ash, and Holly, and Lillian. How much Lillian loved Ash and Jared. And how much Ash loved Jared, Lillian, and Kami. They forged such a large family together, through everything that they went through they became stronger.

As much as I love Kami and Jared's oddly epic love story, it's really everyone in this series as a whole that make me love it so much. All the characters, the way they fight for each other and what is right and what they believe in. The way that they handle the tragedies in their lives. How they never quit, they hang on to what they have and keep going. How they always look for the bright side, and even when they believe that they are all going to die, they still do what needs to be done. Despite the evil of the story, and the heartbreaking deaths, this series was uplifting and inspiring because of the courage of Kami and her friends and family. I will never forget it.
"Your name was the first word for love I ever knew."