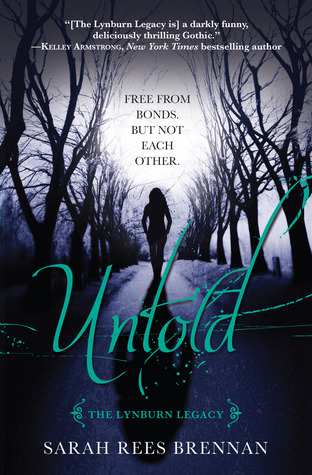 Genres:
Young Adult, Paranormal, Romance
Publication Date:
August 29th 2013
POV:
Alternating - Third-person, Past tense
My Rating:
5 out of 5
_______________

It's time to choose sides....

On the surface, Sorry-in-the-Vale is a sleepy English town. But Kami Glass knows the truth. Sorry-in-the-Vale is full of magic. In the old days, the Lynburn family ruled with fear, terrifying the people into submission in order to kill for blood and power. Now the Lynburns are back, and Rob Lynburn is gathering sorcerers so that the town can return to the old ways.

But Rob and his followers aren't the only sorcerers in town. A decision must be made: pay the blood sacrifice, or fight. For Kami, this means more than just choosing between good and evil. With her link to Jared Lynburn severed, she's now free to love anyone she chooses. But who should that be?

A darkly humorous take on Gothic romance, Sarah Rees Brennan's Lynburn Legacy weaves together the tale of a heroine desperate to protect those she loves, two boys hoping to be saved, and the magical forces that will shape their destiny.
_______________
This more than makes up for the heartbreaking ending to
Unspoken
. I find that relationship cliffhangers kill me the most. They are way worse than story or action cliffhangers. That's why the ending of
Unspoken
destroyed me, but I was fine with the ending of
Opal
.
This story has more of what we loved in book one. More of the humour and the brilliant Kami. More of the awesome sidekicks Angie and Rusty. More of the brooding Jared and Golden Boy Ash. Especially Ash. We got to know him a lot better in this book and I really feel for him. He is so often overlooked. I hope he gets more affection from his mother in book 3.
"Everyone all right?"
"I'm okay," [Holly] said. "I see you are too. I also see you have a weapon that is on fire."
"I'm badass like that," Kami said.
Kami and Jared also break my heart. They are like star-crossed lovers. There are so many things set against them. But Jared is such a hero and a martyr. In that way he kind of reminds me of the Rajaram brothers from
Tiger's Curse
. He has traits of both. But make no mistake, he is not as awesome as Kishan. Very few people can compete with the love of my life, and none of those outside of my holy Quartet (Kishan, Ash, Warner, Jem). But, there is a great shortage of amazing heroines, so Kami
does
make the cut for me. She is whip-smart and clever and funny, and amazingly brave and strong. There are not enough heroines like her.
Although so far this has been a very clean YA series, Kami and Jared are still totally epic and they both love each other unconditionally and passionately. And not just romantically, but any way they can. Its Eros, Storge, Pragma, Mania, Philia,
and
Agape. And
that
, my friends, is beautiful!
"Do you remember how you used to believe I wasn't real? Sometimes I wish that was true. If I was just a thought in the back of your mind, then I'd be with you, and I'd be better."