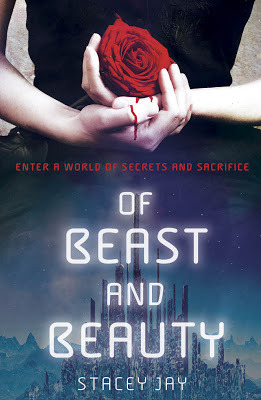 Genres:
Young Adult, Sci-fi, Romance
Publication Date:
July 23rd 2013
POV:
Alternating - First-person, Present tense
My Rating:
4 out of 5
_______________
In the beginning was the darkness, and in the darkness was a girl, and in the girl was a secret...

In the domed city of Yuan, the blind Princess Isra, a Smooth Skin, is raised to be a human sacrifice whose death will ensure her city's vitality. In the desert outside Yuan, Gem, a mutant beast, fights to save his people, the Monstrous, from starvation. Neither dreams that together, they could return balance to both their worlds.

Isra wants to help the city's Banished people, second-class citizens despised for possessing Monstrous traits. But after she enlists the aid of her prisoner, Gem, who has been captured while trying to steal Yuan's enchanted roses, she begins to care for him, and to question everything she has been brought up to believe.

As secrets are revealed and Isra's sight, which vanished during her childhood, returned, Isra will have to choose between duty to her people and the beast she has come to love.
_______________
This book was absolutely nothing like I expected. Even the blurb didn't give away the fact that this was a futuristic sci-fi and not a high fantasy. And it wasn't much of a
Beauty and the Beast
retelling, either. There was not much left of the original tale. The only similarities I saw was that their love could break a curse, but even the details of that were very different. Besides the drastic change in story and setting, one of the more major changes is the fact that there is no clear beauty and no clear beast. They were both a little beautiful and both a little beastly, and I really loved that about it. The whole point of the story is that we are all the same, we are all human in the end, regardless of the differences we see at first glance.
"Beauty is wherever you find it, and Beast is there when you need to defend it."
This book wasn't the type of book that made me want to yell with excitement or made my heart race. It had a lot of darkness, but being a standalone novel, it didn't have time to dwell on it. It had to bring a resolution sooner than in a series, so I am left mostly with feelings of peace, warmth, and happiness. It was a love story, not an adventure. The setting and story itself reminded me a great deal of books such as
Under the Never Sky
and
Cinder
. But the atmosphere, feelings of peace, HEA, and the focus on the power of undying love reminds me more of
For Darkness Shows the Stars
.
Isra and Gem were amazing characters who had been through so much, had been put through so much by others, and still found the courage in themselves to love without reservation. They were brave, incredibly kind, and capable people whose love was real and tangible, beautiful and selfless. And it saved the world. And although that leaves me with incredible warm and fuzzy feelings, my blood is not pumping. I am not holding back any emotions that want to burst out.
"I am her monster, and she is mine. But right now none of it matters."