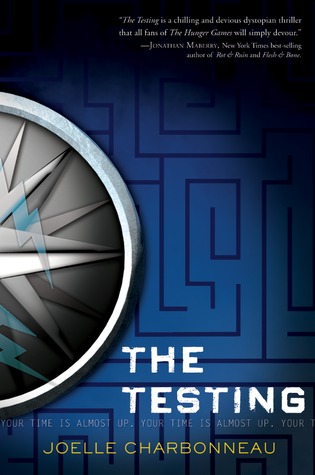 Genres:
Young Adult, Sci-fi, Dystopian, Romance
Publication Date:
June 4th 2013
POV:
Female - First-person, Present tense
My Rating:
3 out of 5
_______________
Keep your friends close and your enemies closer. Isn't that what they say? But how close is too close when they may be one in the same?

The Seven Stages War left much of the planet a charred wasteland. The future belongs to the next generation's chosen few who must rebuild it. But to enter this elite group, candidates must first pass The Testing—their one chance at a college education and a rewarding career.

Cia Vale is honored to be chosen as a Testing candidate; eager to prove her worthiness as a University student and future leader of the United Commonwealth. But on the eve of her departure, her father's advice hints at a darker side to her upcoming studies--trust no one.

But surely she can trust Tomas, her handsome childhood friend who offers an alliance? Tomas, who seems to care more about her with the passing of every grueling (and deadly) day of the Testing. To survive, Cia must choose: love without truth or life without trust.
_______________
I enjoyed this story for the most part. The first 3 stages of the testing in the first half of the book reminded me a lot of the fierce competing in
Divergent
. But the final stage of testing, and the second half of the book, was without a doubt similar to
The Hunger Games
. Although YA dystopians abound these days, I enjoyed the world and thought it was well done.
But I found the character development seriously lacking. Cia is a decent heroine, but she's not amazing. She was determined and brave but not in any way that makes her stand out among the plethora of brave YA heroines. She was smart in a way that made her impossible to relate to and her loyalty was blind.
I wanted to love Tomas because Cia does, but he just wasn't anything special either, and I found myself wishing for a love-triangle with Michal instead. That would probably spice up the character development a bit. And I find that tiny twist about Tomas at the end to be unbelievable and unfair. I am angry at the author for spending the whole book trying to convince us Tomas is a certain kind of person, only to tell us differently in the end with no proof and no idea what to do with the information she has given us, except hold it in the palm of our hands until
Independent Study
.
This did not have what I would call a cliffhanger and it does not make me more invested in his character. It felt incomplete and took away from my overall enjoyment of the book. But I am curious enough about their world and whether or not Cia can take it down from the inside to keep reading eventually.
"Leaders are forced to kill all the time. Then they have to learn to live with the decisions they make. Just like I'm going to learn to live with mine."