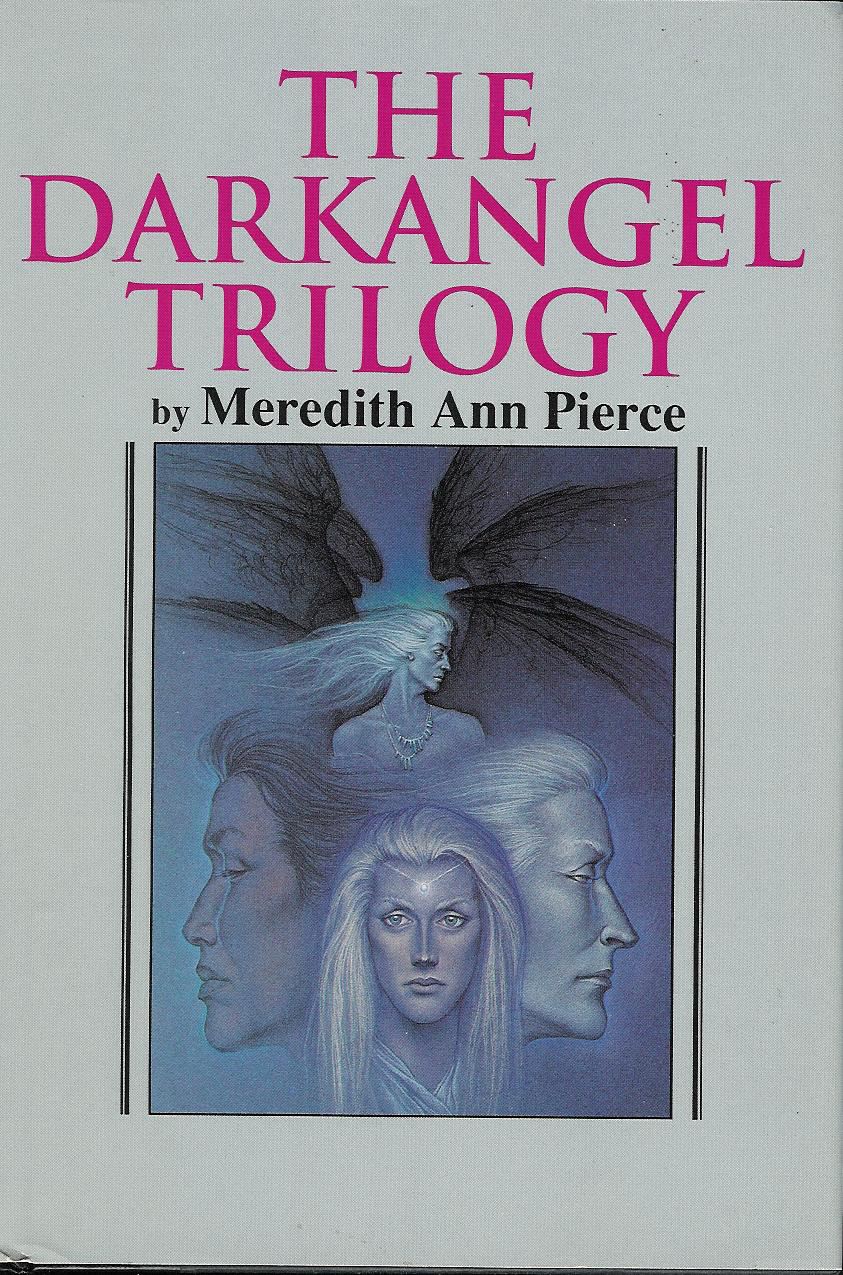 Genres:
Young Adult, High Fantasy, Adventure, Romance
My Rating:
2 out of 5
They had been searching the mountain for a rare nectar -- the mistress, Eoduin, carelessly scoffing at old tales of the evil creatures they might encounter... the slave, Aeriel, apprehensive, and rightly so. For a darkangel
did
swoop from the sky, and he stole the beautiful Eoduin away...

Loyal Aeriel understood nothing of the darkangel's purpose, yet knowing would not have stopped her. She vowed to rescue her friend and mistress -- and thus placed herself in Irrylath's power. He took her to his cold, lonely castle to serve Eoduin and his twelve other brides -- tormented soulless wraiths who had once been flesh-and-blood women.
Above all, this is a high fantasy adventure. In all three books, the heroine, Aerial, is traveling across an extremely fantastical landscape, collecting magical objects that will help her accomplish her goal.
The bulk of the books is spent on world-building and describing the landscape, and strange creatures and characters Aerial comes across. It is extremely descriptive and spends a lot of time using old-fashioned English that is hard to understand. Call me spoiled, but I much prefer the way YA books are written today--spending a larger portion of the book in internal dialogue, exploring characters and their motives, their hopes and fears and loves. But if you love the strange new worlds of high fantasy, this definitely has that in abundance.
I didn't feel that I really knew Aerial or Irrylath, or what was really going on in the story. And I did not find the relationship between them believable. At the end of the first book, after Aerial released Irrylath from the curse, he was a completely different person. He didn't even
look
the same. I have trouble seeing how Aerial could love him before,
and
after. One or the other version of him perhaps, but not both. And as a reader, I can attest to that. I can't explain other people's love for the series, but personally I felt confused by the fact that the first book featured an anti-hero who you slowly grew to understand and accept. And just as you do he disappears and is replaced by a different young man. A long lost prince and budding hero. I felt slightly robbed.
And I also had a problem with the fact that they were first cousins. I know people used to marry their cousins, and still do today in some countries. I believe the heroine from Austen's
Mansfield Park
even married her cousin, and that was only 200 years ago. Also, this series is set in a completely different world where that may be acceptable. But the book was written only 30 years ago,
in America
. Why try to force something on us that you know would be completely foreign and uncomfortable compared to our way of life? The fact that they were cousins served no purpose. And not only was Aerial Irrylath's cousin, so was the other woman who was in love with him--a first cousins from the other side of his family.
The ending was really disappointing. It didn't have an HEA. It is what writers distinguish as a love story, not a romance. If I had known that ahead of time I wouldn't have read this book. But as I said, I wasn't really attached to the characters, so it didn't upset me too much. And I learned my lesson. I never read a book anymore if I have any reason to doubt the ending.
"Aeriel felt her heart grow troubled. "I know," she said. "I know that he is evil, but his beauty unmakes me. Every time he looks at me, I die."