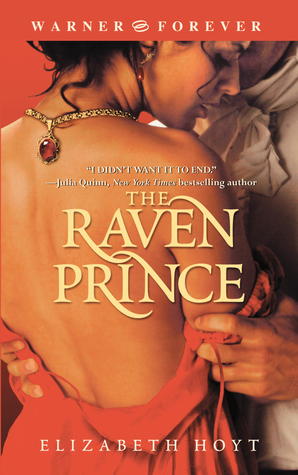 Genres:
Adult, Historical Fiction, Romance
Publication Date:
November 1st 2006
POV:
Alternating - Third-person, Past tense
Smut-O-Meter:
8 out of 10
My Rating:
5 out of 5
_______________
There comes a time in a lady's life...

Widowed Anna Wren is having a wretched day. After an arrogant male on horseback nearly squashes her, she arrives home to learn that she is in dire financial straits.

When she must do the unthinkable...

The Earl of Swartingham is in a quandary. Having frightened off two secretaries, Edward de Raaf needs someone who can withstand his bad temper and boorish behavior.

And find employment.

When Anna becomes the earl's secretary, it would seem that both their problems are solved. Then she discovers he plans to visit the most notorious brothel in London for his "manly" needs. Well! Anna sees red—and decides to assuage her "womanly" desires...with the earl as her unknowing lover.
_______________
This was pretty amazing. Anna and Edward are like a Mr. Rochester and Jane Eyre duo. Anna is plain and Edward is a moody older man. I don't think he is too old though, about 35, but he has a few gray streaks in his hair. I love them both. They are the usual duo for historical romances. A rogue and a spinster. But it is such a great formula, why fix what isn't broken?
I don't usually read erotica, but I think this likely fits the bill. And I have to admit I enjoyed it. Not because of the sex scenes (although those were great), but because of its honesty. I was at first shocked by the way Edward and Anna admit to themselves instantly, how attracted they were to each other. Most books don't feel the need for explicit content outside of one or two sex scenes. Although Anna and Edward really liked each other, and their romance felt real, their physical attraction was so very obvious and added to the experience. But it was perfectly balanced with their emotional connection. I often feel a lack of emotion in adult romances and find their focus is put too much on sex. So its wonderful to find that this book has more of both. Anna and Edward had incredible chemistry.
I am not sure what I loved most about this book, but a strong contender is the story. I love the idea behind it. Edward cant contain his need for his new secretary anymore, but he would never defile a proper lady, so he makes an appointment with the most high class brothel in London. Anna figures out what he is planning, and is herself so full of need and jealousy that she makes a deal with the lady of the brothel to allow her to be the one to meet with Edward, while wearing a mask. They spend two incredible nights together. But, since Edward thought it was just a whore, all it does is make him want Anna even more. And although Anna gets what she wants from Edward physically, it only makes her want his love even more. It took place over a few chapters in the middle of the book, but it was the turning point in the story. They could no long deny what they wanted and they both returned home unsatisfied. Their physical and emotional intensity only increased from there.
My only complaint is the abrupt ending. Although it was a great ending, and everything before it was incredible, I didn't get to see as much of their happiness as I would have liked. I like more of a drawn out conclusion in my books, but that might just be my personal preference. I was glad for what we saw in the epilogue, but it was not explained how it was possible. I suspected from the beginning that it would happen, but that was before we learned of Felicity's red-headed daughter. I guess it could have simply been a matter of chance, but it seems unlikely.
Regardless, this was one of the best historical romances I have ever read, even though I could count how many I have read on one hand. I am no longer turned off by the idea of erotica as a whole. When done right, they can be even more emotionally involving than regular romance. I look forward to exploring the idea and this author's books more in the future.
"Have you ever noticed that once you have had a taste of certain sweets—raspberry trifle is my own despair—it is quite impossible not to think, not to want, not to crave until you have taken another bite?"
"Lord Swartingham is not a raspberry trifle."
"No, more of a dark chocolate mousse, I should think."