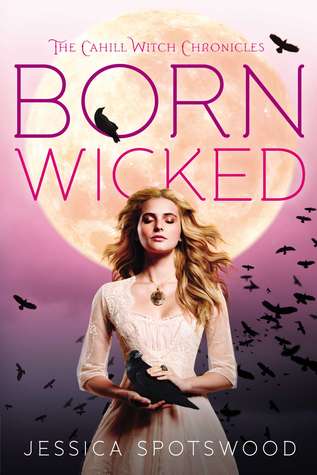 Genres:
Young Adult, Historical Fiction/Alternate History, Paranormal, Romance
Publication Date:
February 7th 2012
POV:
Female - First-person, Present tense
My Rating: 4 out of 5
_______________
Everybody knows Cate Cahill and her sisters are eccentric. Too pretty, too reclusive, and far too educated for their own good. But the truth is even worse: they're witches. And if their secret is discovered by the priests of the Brotherhood, it would mean an asylum, a prison ship—or an early grave.

Before her mother died, Cate promised to protect her sisters. But with only six months left to choose between marriage and the Sisterhood, she might not be able to keep her word... especially after she finds her mother's diary, uncovering a secret that could spell her family's destruction. Desperate to find alternatives to their fate, Cate starts scouring banned books and questioning rebellious new friends, all while juggling tea parties, shocking marriage proposals, and a forbidden romance with the completely unsuitable Finn Belastra.

If what her mother wrote is true, the Cahill girls aren't safe. Not from the Brotherhood, the Sisterhood—not even from each other.
_______________
This book really wasn't what I expected at all. It took awhile for me to get into it. Part of that is probably due to the fact that I was in the mood for something different. But once I got introduced to the story I enjoyed it regardless. With all the historical-fiction tags, and the blurb, I thought this would be a story similar to the Salem witch trials. But its really not. It is set in an alternate 1897, Maine. Witches used to rule, until 30 years earlier when there was an uprising and all the witches were killed. Now the Brotherhood rules, and women are oppressed. The entire society is based on the oppression of women. Women are forced to marry at 17, so that they have a man to control them before they get too old. If you don't choose a husband by the time you are 17, the Brotherhood will choose one for you. But of course more witches have been born since, and they live in fear of discovery. It is really a dystopian. There is also a prophecy that foresees the coming of 3 very powerful witch sisters. I love prophecies.
I enjoyed Cate's character. She was put in a very difficult situation, with not nearly enough guidance from her mother, no cooperation from her sisters, and she is doing the very best she can. She made some mistakes but she always put her sisters first. I really could not stand her sister, Maura. She was such a brat and a busybody. So much could have been avoided if it weren't for Maura. But the youngest sister, Tess, was adorable, and I loved Finn.
Finn was described as sinewy, with red hair, brown eyes, glasses, a gap in his teeth, and covered in freckles. But Cate absolutely loved him and it was adorable. I have no idea if he was good-looking or not because Cate never described his facial features, but she thought he was gorgeous and was always fantasizing about seeing the rest of his freckles. They were just so cute. Sometimes in YA there are heroines that are plain, like Tris, but Four was still hot. The guy is always hot. The authors are appealing to the female readers, and they know that some of their readers will be plain, but want them to still be able to believe they can get these hot guys. But the truth is that being loved by a moderately cute and quirky boy can be just as wonderful, if he really loves you. I don't have a thing for freckles myself, but the way Cate was always thinking about them was just too adorable.
The title of the series, The Cahill Witch Chronicles, makes me think that they might shift focus to another sisters in
Star Cursed
, but I really hope not. I don't want a book from Maura's POV. And I really, really want to see more of Finn. But the way things were left at the end of the book, I can't imagine them leaving Cate's POV. She is at the center of everything. I cant wait to find out what happens next, and you just know Finn is going to go after her. *dreamy sigh*
"I have never been this close to a man before. Something stirs deep, pulsing through my body, and its quite like the tug of magic, buts its not the magic; this is something entirely different, just between Finn and me and this moment."