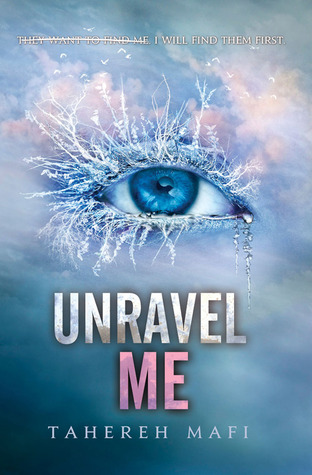 Genres:
Young Adult, Sci-fi, Dystopian, Paranormal, Romance
Publication Date:
February 5th 2013
POV:
Female - First-person, Present tense
My Rating:
5 out of 5
_______________
Juliette has escaped to Omega Point. It is a place for people like her—people with gifts—and it is also the headquarters of the rebel resistance.

She's finally free from The Reestablishment, free from their plan to use her as a weapon, and free to love Adam. But Juliette will never be free from her lethal touch.

Or from Warner, who wants Juliette more than she ever thought possible.

In this exhilarating sequel to Shatter Me, Juliette has to make life-changing decisions between what she wants and what she thinks is right. Decisions that might involve choosing between her heart—and Adam's life.
_______________
This series is shifting focus from the dystopian aspects, the Reestablishment, to the romance. There really wasn't that much of a story in this and I didn't even notice. The characters are the best thing about this series anyways.

We got to understand Juliette, and Adam, and Warner, Kenji, and Anderson, and even James better in this book. I was really unimpressed by Adam in this book. He has become the love interest who is there just to be a love interest, and really has no place in the story. He may later, due to the revelation we found out about him in this book. It may become more of an issue in book 3. But besides that, he was just there to confuse Juliette and make her feel guilty, and, I suppose, to push her towards Warner. I honestly think the fact that she managed to forget him for most of chapter 62 is a point against him. Juliette felt guilty afterwards, but she has no reason to. If she already moved on without having even noticed, then really, what is there left keeping her attached to Adam? But she still has feelings for him, however inexplicable.
I feel like I know Warner even better now. Even better than I did after
Destroy Me
. Destroy Me told us more about his past and his immediate present. About what he thought, how he went about his day, and how he felt about Juliette. But Unravel Me really revealed him as a character, who he was, what he wanted. Every conversation he had with Juliette revealed more about him. About his dreams for the future. And I honestly feel like he and Juliette have far more of a connection than Juliette and Adam. And I am not just saying that because I am biased-ly in love with Warner. As much as I love Jem, I think Tessa would be better off with Will. I don't think she deserves Jem anyways. But I can see the way that Juliette and Warner understand each other. The way they make each other stronger, just like his fatherly mockingly said.
Although I still have some reservation about Warner's intentions. Would he still end up trying to use Juliette as a weapon? What would he do in terms of a war against the Reestablishment? I don't think Juliette is a monster, but she undeniably has a certain propensity for violence. I don't know if it is because of her gift, or if she would have been that way anyways. But not everyone would naturally think to try to break the earth when they get angry. Not everyone would think to shoot their enemy in all their limbs before killing them. Juliette and Warner would have to be willing to accept each other before having any sort of successful relationship. If Warner ever pushed her too hard in the wrong direction, I think she could become the monster she fears.
I cannot wait to find out what Juliette will do next. In the end of the book she was angry, and wanting to protect everyone she cared about. Does that mean she will run back to Omega Point? Or will she stay with Warner, try to take down his father together? This is a series that I know will continue to surprise and impress me.
"I want to be the friend you fall hopelessly in love with."